{"id":6187935629468,"title":"Jura JX6 Coffee Machine","handle":"jura-jx6-coffee-machine","description":"\u003ch2 style=\"text-align: center;\"\u003e\u003cspan style=\"text-decoration: underline;\"\u003e\u003cstrong\u003e JURA JX6\u003c\/strong\u003e\u003c\/span\u003e\u003c\/h2\u003e\n\u003cp\u003e\u003cspan style=\"text-decoration: underline;\"\u003e\u003c\/span\u003e\u003cspan data-mce-fragment=\"1\"\u003eIf You Want To Add An Attractive Specialist Espresso\/Coffee Machine To Your Team, You can't Afford To Miss The Impressa JX6 Professional.\u003c\/span\u003e\u003c\/p\u003e\n\u003ch3 class=\"title\" id=\"pagelayout_0_pagetype_0_pagecontent_0_tabcontent_0_repTabContentBlock_conContentBlock_0_genTitle_0\" style=\"text-align: center;\"\u003e\n\u003cspan style=\"text-decoration: underline;\"\u003eTechnology\u003c\/span\u003e\u003cbr\u003e\n\u003c\/h3\u003e\n\u003cp\u003eThe \u003cstrong\u003e\u003cem\u003einnovative Aroma G3 grinder\u003c\/em\u003e\u003c\/strong\u003e always grinds the beans freshly for every beverage, to just the right fineness. It is designed for speed and precision while preserving the full aroma of the beans. \u003c\/p\u003e\n\u003cdiv class=\"block-text\"\u003e\n\u003cdiv class=\"img variant-right variant-no-border\" id=\"pagelayout_0_pagetype_0_pagecontent_0_tabcontent_0_repTabContentBlock_conContentBlock_0_pnlContentImage_0\"\u003e\u003cimg alt=\"\" src=\"https:\/\/www.jura.com\/-\/media\/global\/images\/professional-products\/x-line\/X6\/features\/feature1.jpg?la=en\u0026amp;mw=655\u0026amp;hash=BCB969D01AF79A339B35BE5708F72A320C3AEE60\" id=\"pagelayout_0_pagetype_0_pagecontent_0_tabcontent_0_repTabContentBlock_conContentBlock_0_imgContentImage_0\" style=\"display: block; margin-left: auto; margin-right: auto;\"\u003e\u003c\/div\u003e\n\u003cp\u003eAll control elements on the X6 are on the front, clearly visible and easily accessible. The water tank and bean container can also be refilled from the front. To protect them from manipulation, the water tank and bean container come with a locking mechanism as standard. The drip tray and coffee grounds container are ergonomically designed and can be removed with one hand, allowing them to be emptied quickly and cleanly. \u003c\/p\u003e\n\u003cp\u003eThe control elements show the clarity of the operating concept. The vertical format TFT display combined with the large, easily recognizable preparation buttons make operation very straightforward, even for first-time users. The preparation and maintenance buttons can be disabled to prevent unwanted reprogramming or accidental operation while the machine is being cleaned.\u003c\/p\u003e\n\u003c\/div\u003e\n\u003cdiv class=\"block-text\"\u003e\n\u003cdiv class=\"img variant-left variant-no-border\" id=\"pagelayout_0_pagetype_0_pagecontent_0_tabcontent_0_repTabContentBlock_conContentBlock_1_pnlContentImage_1\"\u003e\u003cimg alt=\"\" src=\"https:\/\/www.jura.com\/-\/media\/global\/images\/professional-products\/x-line\/X6\/features\/feature2.jpg?la=en\u0026amp;mw=655\u0026amp;hash=87027A14779A38991DECA8377AB8D7EB6005349A\" id=\"pagelayout_0_pagetype_0_pagecontent_0_tabcontent_0_repTabContentBlock_conContentBlock_1_imgContentImage_1\" style=\"display: block; margin-left: auto; margin-right: auto;\"\u003e\u003c\/div\u003e\n\u003ch3 class=\"title\" id=\"pagelayout_0_pagetype_0_pagecontent_0_tabcontent_0_repTabContentBlock_conContentBlock_1_genTitle_1\"\u003e\u003c\/h3\u003e\n\u003c\/div\u003e\n\u003cdiv class=\"block-text\"\u003e\n\u003cp\u003eThe jX6 can be combined with a number of accessories – specially designed for JURA professional coffee machines – to create a complete, made-to-measure coffee solution: for example the freshwater kit, cup warmer, or accounting system.\u003c\/p\u003e\n\u003c\/div\u003e\n\u003cvideo style=\"max-width: 100%; height: auto;\" controls=\"controls\"\u003e\n \u003csource type=\"video\/mp4\" src=\"https:\/\/cdn.shopify.com\/s\/files\/1\/0491\/9663\/0172\/files\/X6_1920x1080_Mpeg4_H264_18743.mp4?v=1612737789\"\u003e\nYour browser does not support our video.\n\u003c\/source\u003e\u003c\/video\u003e","published_at":"2021-02-07T14:21:06+00:00","created_at":"2021-02-07T14:20:51+00:00","vendor":"Jura","type":"Bean To Cup Coffee Machine | Electronic Coffee Machines","tags":[],"price":370000,"price_min":370000,"price_max":370000,"available":true,"price_varies":false,"compare_at_price":null,"compare_at_price_min":0,"compare_at_price_max":0,"compare_at_price_varies":false,"variants":[{"id":37723909357724,"title":"Default Title","option1":"Default Title","option2":null,"option3":null,"sku":"15154","requires_shipping":true,"taxable":false,"featured_image":null,"available":true,"name":"Jura JX6 Coffee Machine","public_title":null,"options":["Default Title"],"price":370000,"weight":0,"compare_at_price":null,"inventory_management":"shopify","barcode":"7610917151547","requires_selling_plan":false,"selling_plan_allocations":[]}],"images":["\/\/cdn.shopify.com\/s\/files\/1\/0491\/9663\/0172\/products\/JX6_Coffee.jpg?v=1612707654","\/\/cdn.shopify.com\/s\/files\/1\/0491\/9663\/0172\/products\/JX6_Dismantle.jpg?v=1612707654","\/\/cdn.shopify.com\/s\/files\/1\/0491\/9663\/0172\/products\/JX6_DISPLAY.jpg?v=1612707654","\/\/cdn.shopify.com\/s\/files\/1\/0491\/9663\/0172\/products\/JX6_Double_Espresso.jpg?v=1612707654","\/\/cdn.shopify.com\/s\/files\/1\/0491\/9663\/0172\/products\/JX6_Lock.jpg?v=1612707654","\/\/cdn.shopify.com\/s\/files\/1\/0491\/9663\/0172\/products\/JX6_Lockable_Bean_Hopper.jpg?v=1612707654","\/\/cdn.shopify.com\/s\/files\/1\/0491\/9663\/0172\/products\/JX6_Rear.jpg?v=1612707654"],"featured_image":"\/\/cdn.shopify.com\/s\/files\/1\/0491\/9663\/0172\/products\/JX6_Coffee.jpg?v=1612707654","options":["Title"],"media":[{"alt":null,"id":16098605858972,"position":1,"preview_image":{"aspect_ratio":0.752,"height":1920,"width":1443,"src":"https:\/\/cdn.shopify.com\/s\/files\/1\/0491\/9663\/0172\/products\/JX6_Coffee.jpg?v=1612707654"},"aspect_ratio":0.752,"height":1920,"media_type":"image","src":"https:\/\/cdn.shopify.com\/s\/files\/1\/0491\/9663\/0172\/products\/JX6_Coffee.jpg?v=1612707654","width":1443},{"alt":null,"id":16098605924508,"position":2,"preview_image":{"aspect_ratio":1.638,"height":1172,"width":1920,"src":"https:\/\/cdn.shopify.com\/s\/files\/1\/0491\/9663\/0172\/products\/JX6_Dismantle.jpg?v=1612707654"},"aspect_ratio":1.638,"height":1172,"media_type":"image","src":"https:\/\/cdn.shopify.com\/s\/files\/1\/0491\/9663\/0172\/products\/JX6_Dismantle.jpg?v=1612707654","width":1920},{"alt":null,"id":16098605957276,"position":3,"preview_image":{"aspect_ratio":1.806,"height":1063,"width":1920,"src":"https:\/\/cdn.shopify.com\/s\/files\/1\/0491\/9663\/0172\/products\/JX6_DISPLAY.jpg?v=1612707654"},"aspect_ratio":1.806,"height":1063,"media_type":"image","src":"https:\/\/cdn.shopify.com\/s\/files\/1\/0491\/9663\/0172\/products\/JX6_DISPLAY.jpg?v=1612707654","width":1920},{"alt":null,"id":16098605990044,"position":4,"preview_image":{"aspect_ratio":0.752,"height":1920,"width":1443,"src":"https:\/\/cdn.shopify.com\/s\/files\/1\/0491\/9663\/0172\/products\/JX6_Double_Espresso.jpg?v=1612707654"},"aspect_ratio":0.752,"height":1920,"media_type":"image","src":"https:\/\/cdn.shopify.com\/s\/files\/1\/0491\/9663\/0172\/products\/JX6_Double_Espresso.jpg?v=1612707654","width":1443},{"alt":null,"id":16098606022812,"position":5,"preview_image":{"aspect_ratio":1.461,"height":1314,"width":1920,"src":"https:\/\/cdn.shopify.com\/s\/files\/1\/0491\/9663\/0172\/products\/JX6_Lock.jpg?v=1612707654"},"aspect_ratio":1.461,"height":1314,"media_type":"image","src":"https:\/\/cdn.shopify.com\/s\/files\/1\/0491\/9663\/0172\/products\/JX6_Lock.jpg?v=1612707654","width":1920},{"alt":null,"id":16098606055580,"position":6,"preview_image":{"aspect_ratio":1.806,"height":1063,"width":1920,"src":"https:\/\/cdn.shopify.com\/s\/files\/1\/0491\/9663\/0172\/products\/JX6_Lockable_Bean_Hopper.jpg?v=1612707654"},"aspect_ratio":1.806,"height":1063,"media_type":"image","src":"https:\/\/cdn.shopify.com\/s\/files\/1\/0491\/9663\/0172\/products\/JX6_Lockable_Bean_Hopper.jpg?v=1612707654","width":1920},{"alt":null,"id":16098606088348,"position":7,"preview_image":{"aspect_ratio":1.63,"height":1178,"width":1920,"src":"https:\/\/cdn.shopify.com\/s\/files\/1\/0491\/9663\/0172\/products\/JX6_Rear.jpg?v=1612707654"},"aspect_ratio":1.63,"height":1178,"media_type":"image","src":"https:\/\/cdn.shopify.com\/s\/files\/1\/0491\/9663\/0172\/products\/JX6_Rear.jpg?v=1612707654","width":1920}],"requires_selling_plan":false,"selling_plan_groups":[],"content":"\u003ch2 style=\"text-align: center;\"\u003e\u003cspan style=\"text-decoration: underline;\"\u003e\u003cstrong\u003e JURA JX6\u003c\/strong\u003e\u003c\/span\u003e\u003c\/h2\u003e\n\u003cp\u003e\u003cspan style=\"text-decoration: underline;\"\u003e\u003c\/span\u003e\u003cspan data-mce-fragment=\"1\"\u003eIf You Want To Add An Attractive Specialist Espresso\/Coffee Machine To Your Team, You can't Afford To Miss The Impressa JX6 Professional.\u003c\/span\u003e\u003c\/p\u003e\n\u003ch3 class=\"title\" id=\"pagelayout_0_pagetype_0_pagecontent_0_tabcontent_0_repTabContentBlock_conContentBlock_0_genTitle_0\" style=\"text-align: center;\"\u003e\n\u003cspan style=\"text-decoration: underline;\"\u003eTechnology\u003c\/span\u003e\u003cbr\u003e\n\u003c\/h3\u003e\n\u003cp\u003eThe \u003cstrong\u003e\u003cem\u003einnovative Aroma G3 grinder\u003c\/em\u003e\u003c\/strong\u003e always grinds the beans freshly for every beverage, to just the right fineness. It is designed for speed and precision while preserving the full aroma of the beans. \u003c\/p\u003e\n\u003cdiv class=\"block-text\"\u003e\n\u003cdiv class=\"img variant-right variant-no-border\" id=\"pagelayout_0_pagetype_0_pagecontent_0_tabcontent_0_repTabContentBlock_conContentBlock_0_pnlContentImage_0\"\u003e\u003cimg alt=\"\" src=\"https:\/\/www.jura.com\/-\/media\/global\/images\/professional-products\/x-line\/X6\/features\/feature1.jpg?la=en\u0026amp;mw=655\u0026amp;hash=BCB969D01AF79A339B35BE5708F72A320C3AEE60\" id=\"pagelayout_0_pagetype_0_pagecontent_0_tabcontent_0_repTabContentBlock_conContentBlock_0_imgContentImage_0\" style=\"display: block; margin-left: auto; margin-right: auto;\"\u003e\u003c\/div\u003e\n\u003cp\u003eAll control elements on the X6 are on the front, clearly visible and easily accessible. The water tank and bean container can also be refilled from the front. To protect them from manipulation, the water tank and bean container come with a locking mechanism as standard. The drip tray and coffee grounds container are ergonomically designed and can be removed with one hand, allowing them to be emptied quickly and cleanly. \u003c\/p\u003e\n\u003cp\u003eThe control elements show the clarity of the operating concept. The vertical format TFT display combined with the large, easily recognizable preparation buttons make operation very straightforward, even for first-time users. The preparation and maintenance buttons can be disabled to prevent unwanted reprogramming or accidental operation while the machine is being cleaned.\u003c\/p\u003e\n\u003c\/div\u003e\n\u003cdiv class=\"block-text\"\u003e\n\u003cdiv class=\"img variant-left variant-no-border\" id=\"pagelayout_0_pagetype_0_pagecontent_0_tabcontent_0_repTabContentBlock_conContentBlock_1_pnlContentImage_1\"\u003e\u003cimg alt=\"\" src=\"https:\/\/www.jura.com\/-\/media\/global\/images\/professional-products\/x-line\/X6\/features\/feature2.jpg?la=en\u0026amp;mw=655\u0026amp;hash=87027A14779A38991DECA8377AB8D7EB6005349A\" id=\"pagelayout_0_pagetype_0_pagecontent_0_tabcontent_0_repTabContentBlock_conContentBlock_1_imgContentImage_1\" style=\"display: block; margin-left: auto; margin-right: auto;\"\u003e\u003c\/div\u003e\n\u003ch3 class=\"title\" id=\"pagelayout_0_pagetype_0_pagecontent_0_tabcontent_0_repTabContentBlock_conContentBlock_1_genTitle_1\"\u003e\u003c\/h3\u003e\n\u003c\/div\u003e\n\u003cdiv class=\"block-text\"\u003e\n\u003cp\u003eThe jX6 can be combined with a number of accessories – specially designed for JURA professional coffee machines – to create a complete, made-to-measure coffee solution: for example the freshwater kit, cup warmer, or accounting system.\u003c\/p\u003e\n\u003c\/div\u003e\n\u003cvideo style=\"max-width: 100%; height: auto;\" controls=\"controls\"\u003e\n \u003csource type=\"video\/mp4\" src=\"https:\/\/cdn.shopify.com\/s\/files\/1\/0491\/9663\/0172\/files\/X6_1920x1080_Mpeg4_H264_18743.mp4?v=1612737789\"\u003e\nYour browser does not support our video.\n\u003c\/source\u003e\u003c\/video\u003e"}
Jura JX6 Coffee Machine
WHY BUY FROM US?
FREE Delivery ✔️
Authorized Dealer ✔️
100% Secure Shopping ✔️
No Hidden Fees ✔️
Great Customer Service ✔️
Hassle-Free 14 Day Return ✔️
Price Match Guarantee ✔️
Fastest Service✔️
 JURA JX6
If You Want To Add An Attractive Specialist Espresso/Coffee Machine To Your Team, You can't Afford To Miss The Impressa JX6 Professional.
Technology
The innovative Aroma G3 grinder always grinds the beans freshly for every beverage, to just the right fineness. It is designed for speed and precision while preserving the full aroma of the beans.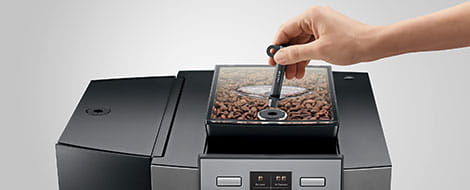 All control elements on the X6 are on the front, clearly visible and easily accessible. The water tank and bean container can also be refilled from the front. To protect them from manipulation, the water tank and bean container come with a locking mechanism as standard. The drip tray and coffee grounds container are ergonomically designed and can be removed with one hand, allowing them to be emptied quickly and cleanly. 
The control elements show the clarity of the operating concept. The vertical format TFT display combined with the large, easily recognizable preparation buttons make operation very straightforward, even for first-time users. The preparation and maintenance buttons can be disabled to prevent unwanted reprogramming or accidental operation while the machine is being cleaned.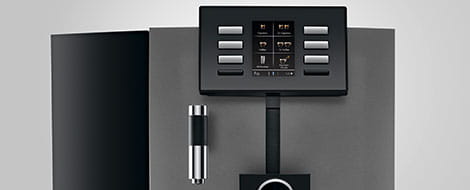 The jX6 can be combined with a number of accessories – specially designed for JURA professional coffee machines – to create a complete, made-to-measure coffee solution: for example the freshwater kit, cup warmer, or accounting system.
Order confirmation
When we receive your order, we provide you with a confirmation to your email. In addition, when you receive your order confirmation we have pre-authorised your payment method. We check with our warehouse or suppliers to make sure that your desired item is available and can be despatched. In the event that your items are unavailable for immediate despatch, we remove the pre-authorisation from your credit card and send you an email informing you of our actions. When items are available to be dispatched, we process the charges and prepare to despatch your order.
How will my order be delivered?
All orders will be delivered using the fastest, safest, and most reliable methods. Once we process your payment, we dispatch your items within the delivery time frame stated on the product page. Then, we send you a despatch notification after your item/s have left the warehouse. We will choose the most suitable delivery method and courier after your order. It's not possible to choose a courier or delivery method yourself.
Where does The Coffee Prep deliver?
We deliver anywhere in the UK (United Kingdom)
There may be additional charges for the 'offshore domestic regions' and 'Scottish Highlands':  Channel Islands, Isle of Wight, Isle of Man, Scilly Isles, Scottish Highlands, Scottish Islands and Northern Ireland.
If your address is outside of the UK mainland please contact for a delivery quote, either by email sales@thecoffeeprep.co.uk or by phone 0333 323 1734.
FEATURE/SPECIFICATION
| | |
| --- | --- |
| Width | 373 mm |
| Height | 470 cm |
| Depth | 461 mm |
| Certified | CE |
| Warranty | 1 Years Parts And Labour |
Usually dispatched within 3 to 5 working days.
Have a question about this product? Send it to us via the form below and we will get back to you as soon as possible with an answer.